The latest issue of the Region's Franciscan Mirror was being delivered by the U.S. Postal Service and is now available in digital format here.
After a hiatus, Editors Robert and Mary Stronach, OFS, relaunched the publication with the blessing of the Regional Executive Council.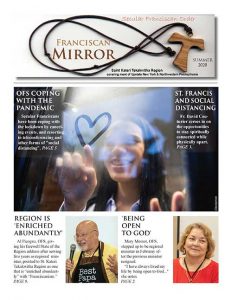 This summer 2020 issue features:
an essay by the Franciscan Institute's Fr. David Couturier, OFM Cap., who zeroes in on how to stay spiritually connected while physically apart during the pandemic.
stories on how fraternities are dealing with the coronavirus isolation.
reports on last fall's Regional Chapter.
news around the Region.